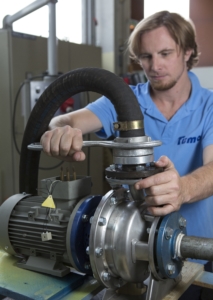 TUMA is your pump specialist in Austria when it comes to pump repairs, pump maintenance and pump service!
So that your pump works quickly again, your pump repair requests have top priority with us..
In no later than 48 hours (working days) we will provide you with a quote. After completed pump repair, we will send it back to you immediately. If the repair of your pump is no longer economical, we will gladly take care of the proper disposal.
Pump check
The inspection of pumps and systems – not only those supplied by us – as well as the repair done our technicians in our in-house workshop. Errors and weak points are quickly identified and eliminated at the own pump test bay.
You have a pump problem? We also come to you on request.
Send us your FEEL GOOD pump repair request directly via our repair registration form or the contact form!
Use our TUMA FEEL GOOD SERVICE and find information about repair performance and repair conditions here
We offer the TUMA pump service * for the following brands:
INOXPA, CP Pumps, Pentax Pumps, Varisco, Speck-Pumps, Aturia, Becker, Busch, Caster, DP, DVP, Ebara, Elmo, Finder, Fluidotech, Hilge, Lowara, Nash, Pedrollo, Procon, Rietschle, Robuschi, Saer, Sihi Sterling, Victor.
* The TUMA pump service is usually faster and cheaper than the original manufacturer, with the same quality of spare parts. And best of all, you get the full warranty.