What is explosion protection?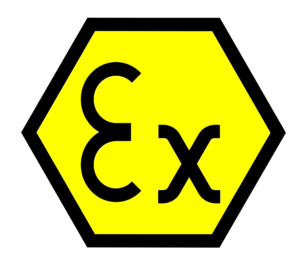 Facilities or areas in which flammable substances in sufficient quantity come into contact with oxygen (air) become a danger zone. There are measures necessary to eliminate the risk of ignition by electrical or mechanical equipment (equipment, tools, machinery or vehicles). To exclude the risk of explosion due to sources of ignition, use equipment with "explosion protection" if required.
Types of protection
For this purpose, there are specified "types of protection" for equipment, eg. "flameproof enclosure", "increased safety", "sand encapsulation" or "wind resistance", which provide mutually equal security against the risk of ignition.
Division of zones
Hazardous areas are divided into zones. Depending on the extent to which explosive atmospheres are present, this applies to gases, vapors and mists:
| | |
| --- | --- |
| Zone 0 (Category 1G *) | constantly or long-term or frequently |
| Zone 1 (Category 2G *) | occasionally |
| Zone 2 (Category 3G *) | rarely and for a short time |
Explosion groups
Explosive gases and vapors are divided into explosion groups:
| | |
| --- | --- |
| IIC | e.g. Hydrogen, acetylene, carbon disulfide |
| IIB | e.g. Town gas, ethylene |
| IIA | all other gases |
Temperature classes
Depending on the ignition temperature, flammable gases and vapors are divided into temperature classes.
The maximum surface temperature of an electrical equipment must always be less than the respective ignition temperature.
| | |
| --- | --- |
| T6 | < 85°C |
| T5 | < 100°C |
| T4 | < 135°C |
| T3 | < 200°C |
| T2 | < 300°C |
| T1 | < 450°C |
The respective permissible temperature class for the planned site of use must be obtained from the Trade Supervisory Office.
Joint responsibility of the operator
Decisive for the success of the explosion protection is the responsible cooperation of the planner, plant constructor and operator. This includes careful selection of equipment and its intended use as well as careful installation, installation and commissioning. Regular checks on the equipment and on the system can maintain the proper state of the explosion protection.